Broken Minds
Update 1.3 — Bugs Fixed, Tutorials!
---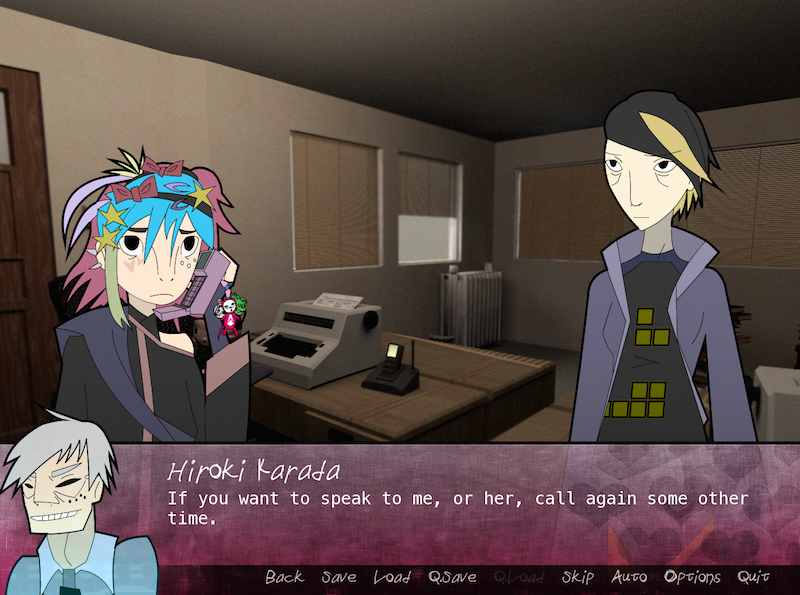 Though the Astro Boy teapot remains (and will likely be the reason this game is sued and banned nationwide), I removed a tiny reference to Rocky Chuck and Minami that was attached to Noa's phone.
But that's not all I changed!
FULL ACCESS TO TUTORIALS :
Before, you had to have saved before beginning a Logic Train to see tutorials. Now there's a little button marked "?" in the corner of every screen of the Logic Train. Pressing this button lets you read the tutorials again. Less frustration for you, I hope!
CHECKPOINT AUTOSAVING:
The game should now autosave before major choices or scenes in the game, including before Logic Trains.
BUG FIXES:
Fixed a bug where you could talk to Takuma again even though the detectives had already left.
The "EXPIATOR" and "BLEAK" stories were swapped in the Extras menu, that has been fixed.
Fixed a mistake in how the game selects your route.
Fixed the "Hard Mode" medal not showing up bug.
OTHER:
Tutorials no longer spoil the Build, Cat's Cradle & Puppet Theater minigames.
Regrettably, the cutscenes in the game still sometimes don't play for me. I may have to just give up on that one. :(
Please update the game if you own it so that these bugs and things won't be an issue for you, and enjoy the new feature!
— LockedOn.
Files
Broken Minds - Mac Version
1 GB
Broken Minds - Windows Version
1 GB